FIRST OF A NEW BREED
​
COMPACT MOBILE PRODUCTION TRAILER
BATTERY-ELECTRIC POWERED
A LearJet in todays complex world of live and near live
multi-camera mobile production facilities.
CONCERTS, FESTIVALS, THEATRE, COMEDY, STUDIO SITCOMS,
CORPORATE MEETINGS AND PRESENTATIONS
ON-LOCATION NATIONALLY - OR IN OUR STUDIOS
​
Trailer interior layout
ROSS CARBONITE ULTRA video effects switching
​
ROSS Carbonite Ultra
2 M/E 12G/3G Effects Switcher
24 Inputs, All frame synced
12 - Outputs (8 scalable)
12 - Aux Outputs (Switchable)
DVE
8GB Memory still/clip storage.
All systems operate at 3G SDI Level A
Black Magic 40x40 Router
3G SDI level A & B compatible.
4 remote panels including FOH operations.
Cabled Patchbay 72 Input/Output
Atomos Shogun Studio 12G/3G/Raw recorders
10 recorders located at VC/LD Station (8 camera ISO's / 2 Program)
Audio SDI In/Out @ 48K -12 channels embedded
Media, SSD 2.5" (standard 512Gb)
1-512 GB record drive supplied per record source
drives are not available to carry away at end of show without prior arrangement
ProVideoPlayer 3 Media Server
MacBook Pro Server
4 Channel Output
Xpression Graphics
VIDEO MONITORING
​
Clean Non Compressed Program Output (Not Multiview)
Multiview patch-able on request
2 Sony broadcast A170 v.2.0 17" 4K OLED.

(HRP1000 switchable)
Teleprompters (In Fremont studio use only)
3 - SDI 17" large monitor teleprompters are available in studios mounded on Vinten Air-Peds.
Wireless 3G Video Monitoring Transport
Teradeck 3000XT. (2500 ft. range)
Swit S-4914P 1000mm 1/2+ mile. (3300 ft. range) (On Request)
5.1-5.9GHz license free bands.
Fiber 3G Video Monitoring Transport
3 - Multi Dyne T/R rattler sets for monitor video transport.
Unit carries 4,000 ft. of single pair ST fiber.
PANASONIC CINEMATIC VARICAM LT
​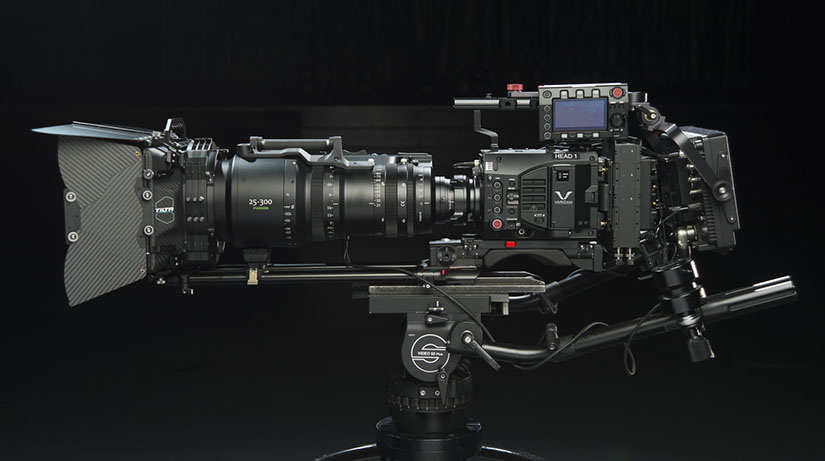 6 VARICAM LT S-35 CINELIVE CAMERAS
5 Studio configurations
3 Hand Held configurations
Unit is wired 12G for 8 Varicam CineLive cameras
NATIVE 4K Super 35mm MOS High Dynamic Range (HDR) image sensor.

4096 x 2160P (4K 16X9)
3840 x 2160P (4K UHD)
2048 x 1080P (2K)
1920 x 1080P (3G 16x9 HD)

Exposure latitude 14+ stops
Native ISO: 800, 5000

800 Base: 200 to 4000
5000 Base: 1250 to 12800

ISO 5000 is approximately 2.5 stops faster than ISO 800
(see value in lensing speeds below)

Systems Operational Frequency 59.94 Progressive
Camera Frames Per Second (Fps) - Variable 2 - 60

(Mixable fps-per camera , changeable on the fly if desired)

Shutter Speed [deg] mode: 1.0 deg to 358 deg (0.1 deg step)

(sec) mode 1/24 sec. to 1/250 sec. (for 24fps)
DUEL IN-CAMERA 4K CODEC RECORDING
4K V-Log or REC: 709
Express P2 - Main in-camera recorder
SD proxy - In-camera memory card recorder

Primary Express P2 recording data is used to create master deliverables while the proxy recordings are used for viewing or off-line editing. The file name and time code of each file will match exactly.
(Please note camera tally bug.) When recording on-board camera P2 4K, show switcher tally is overridden by camera record tally. (on camera only)
1-card (512GB Express P2, and SD 124GB) supplied per camera for immediate transfer after show
Cards are not available to carry away at end of show without prior arrangement.
MULTI DYNE SILVERBACK SMPT FIBER - (Custom Build)
3G SMPT Fiber video/data to/from cameras.
Provides power for camera system including external monitors and other 4K raw outboard recorders.
Fiber transport does not include intercom (See Wireless Intercom System)
Unit carries 4,000 ft. of SMPT fiber camera cable.
REMOTE IRIS Shading
CINELIVE 4K V-LOG LUT Color Grading
​
PANASONIC HRP1000 ROP's (Remote Operational Panels)
Full camera menu operations

Lens iris control
4K and proxy in-camera record roll control.
Viewfinder tally
Viewfinder return video.

Varicam 4K V-Log colorspace workflow (See Wonderlook Pro Grading below for V-Log operation)

Full rec:709 standard broadcast color shading control
V-log on/off control with 4 optional V-log LUT presets

pre-defined color imagery look/style, non adjustable with CCU
​
TV-LOGIC WONDERLOOK PRO LOG GRADING
FUJIFILM technologies LOG color space grading
PL MOUNT - Super 35mm - Zoom Lenses
standard ON-BOARD inventory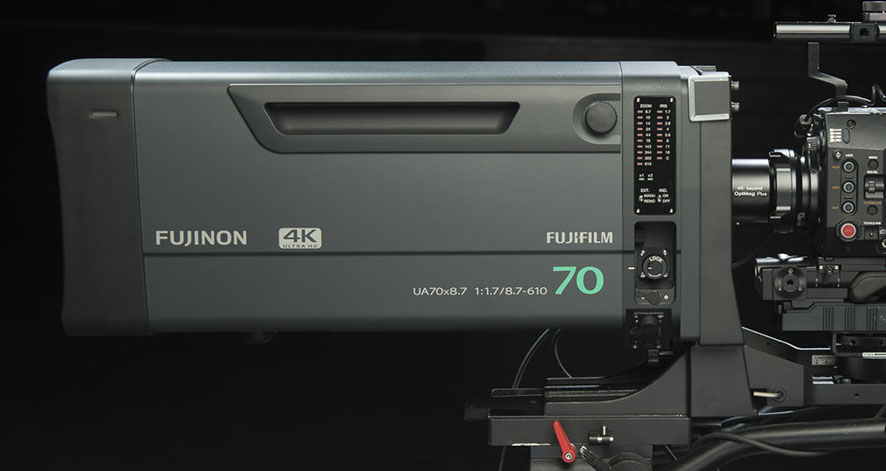 Full studio servo operation.
Will shoot a ring on finger at 1500mm @100 ft.
Will shoot a tight head shot at 1000mm @ 100ft.
​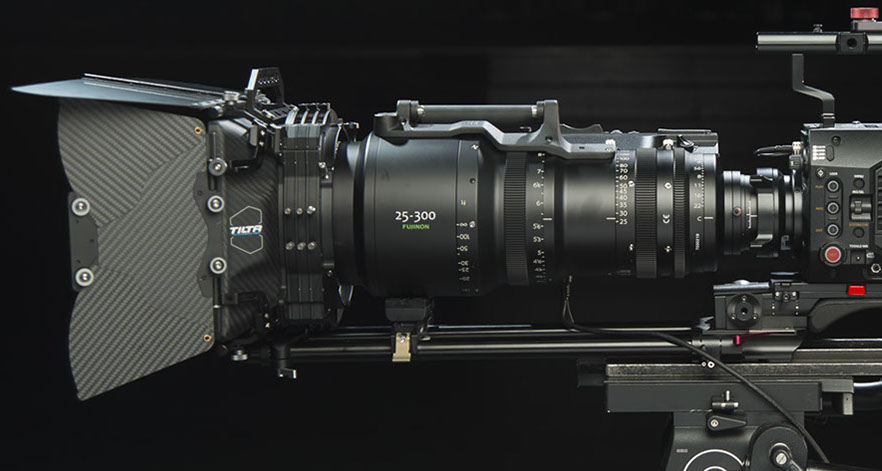 2-Canon Cine S-35 Cinema CN-E 18mm - 80mm

EF Mount

2.65 lb

9-iris blades

T4.4 @ 800 ISO

T1.9 @ 5000 ISO

Hand Held servo operation

Typically used as on stage HH or Steadicam lens
Cine Prime S-35 Lenses
Xeen 16mm T2.6 (PL Mount)
Xeen 85mm T1.5 (PL)
Xeen 135mm T1.5 (PL)
lens inventory adjustable as required for lensing of the show.
Teleprompters (In Fremont studio use only.)
3 - SDI 17" large monitor teleprompters are available mounded on Vinten Air-Peds.


YAMAHA CL-5 Sound Mixing and Recording
​
YAMAHA CL-5 Live 5.1 Surround Sound Mixing
Dante Digital Audio Network.

Number of (Dante) Digital I/O Channels 64 in / 64 out
Unit travels with 1 Rio 3224-D2 digital remote I/O station with 2-1000ft fiber cable links, one for redundancy.

Mix Buses, 24.
Input Mixing Channels, 72 mono + 8 stereo.
iMac Pro Multi-Track

recording server.

96 input/output analog patch-bay.
All microphones as needed are included in unit package pricing.
RTS/CLEARCOM Matrix Intercom Systems
8 - 16 channel programmable user stations in unit

Audio, AD, Producer, Director, TD, Video, Lighting, FOH
15 - RTS Two Channel Wired Beltpacks
4 channels IFB interrupt, located on Director/AD user stations
Stage Announce, located on Director/AD user stations
David Clark "Loud environment" headsets for camera operations
Tow Vehicle/Camera Truck and TraileR
(Coming Soon ) Available late July 2020
Kenworth Camera Truck / Tow Vehicle
​
2020 Kenworth T-370 Tractor / Camera Truck

Paccar PX-9 350hp engine (Governed at 85mph, 1800 mile fuel range)
Allison 3000 HS Transmission
Air Brakes - Air Suspension
12,000 watt Cummins/Onan diesel generator for production trailer support power.
This Camera Truck can double as client/producers production monitoring suite.
Duel driver capable, with walk through sleeper area, for faster long-haul commutes across the country.
BATTERY - ELECTRIC POWERED
This compact 22 ft., 4K/3G mobile production trailer is Battery-Electric powered. Providing a robust 12+ hours of integrated off grid DC/AC backup power insuring on-location live production facilities.
Normal daily operating power requires 220v 50 amp, single phase, AC on Camlock Connectors.
This service supplies all technical production equipment including HVAC.
ADDITIONAL CAMERA SUPPORT
​
Robotics, Pan Heads, Studio Air Peds and Stuff
1 - Vinten Vector 70 Panhead
1 - Sachtler Dutch Roll Head
2 - Sachtler Cine 100 Panhead Mitchell Mount
2 - Sachtler Cine 75 Panheads 100mm Ball Mount
4 - Sachtler Video 20II Panheads 50mm Ball Mount

Additional specialized camera movement sub-contractor services.
Designer/Builder
JONAS JENSEN INC. DBA FREMONT STUDIOS
Fremont Studios, Panasonic Varicam LT CineLive Mobile Unit is based in Seattle, is available for studio, theatre and concert style entertainment production throughout the US and Canada. The Unit is generally packaged as needed with A level veteran crew located around the country from our 40 year developed national who's who's database.
Unit is operated and traveled with staff, EIC of overall systems, 1st. AC/VC , EIC Sound and a Driver.
TO START AN INQUIRY