​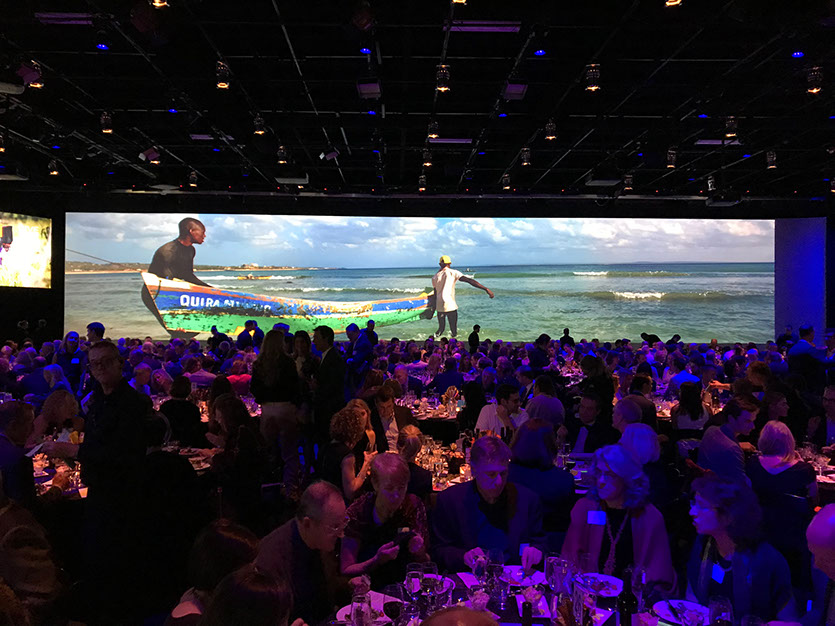 100' Cinema Projection Wall
cy-clo-ram-a
A wall, blending into the floor, used as a backdrop
of a stage set to suggest unlimited space and distance.
6784 x 1200 pixels aspect ratio for event seating.
(See technical data below)
Unique to the film/photography industry, this "infinity" (no horizon line curved Cyc wall) is being used in conjunction with event and meetings for dynamic visual marketing of your message. This Cyclorama is one of the largest in the country and the only one with permanently installed cinema projection.
__________________________________________________________________
TECHNICAL DATA
SOUNDSTAGE A PROJECTORS
____________________________________
4 Projector - Cyclorama wall (working as one/soft edge blended)
6784 x 1200 pixels for event dinner seating.
VIDEO FILES need to be delivered as .mp4, H.264

codec.
STILL IMAGE FILES as

JPEG

- RGB color profile
5 Projectors - Satellite Screens (surround screen placement)
1920 x 1080 pixels - (16x9 aspect ratio)

VIDEO MOVIE FILES 1920X1080 mp4, H.264 codec.
STILL IMAGE FILES 1920x1080 as JPEG, RGB color profile.
DO NOT DESIGN STILL SLIDES WITH
WHITE BACKGROUNDS (VIDEO IS OKAY)
(WAY TO BRIGHT IN THE ROOM)
Screens become BRIGHT LIGHTS with white images.
The projectors are so powerful, white deteriorates the room ambience's and overall lighting effects. Short movie presentations as the main focus are acceptable.
1 Projector - Center Performance Stage
1920 x 1080 pixels (16x9 aspect ratio)
Additional 14' screens and large 60" monitors available on request for special locations in studios.
DISPLAY TV MONITORS (16x9) 1920x1080 JPEG
POWERPOINT presentations should be delivered in a 16:9 aspect ratio (not 4:3). No embedded effects. (we will convert PP files to JPEG for our server system.) If embedded effects are used - customer will need to supply the computer for playback.
SCREEN CONTROL SYSTEM
VIDEO SERVER CONTROL SOFTWARE - Pro Video Player 3
VIDEO SERVER - MAC Pro, 2.7 GHz, 12-Core Intel Xeon E5

This system, including router, easily separates all screens for independent display and/or synchronized video content to display on all screens, including Cyc wall.
Cyc wall playback software is capable of unlimited video layers. (only limited by processor speed)
Additional playback sources maybe required for independent content.
All video distribution is HDSDI and/or Fiber.
FOH VIDEO SWITCHER

Panasonic AV-HS410 Multi-Format HD-1080i/720P w/ 6 switchable auxiliary outputs - SDI distributed
VIDEO ROUTING throughout studios - 20 x 20 HDSDI
CAMERAS (Two systems available)
BROADCAST VIDEO ENCODING

3 - AJA HELO H.264 (we can do 3 streams)
TO START COMMUNICATIONS
​Check Availability Schedule a Meeting