Grand MA2 Full-Size
DMX Controller
​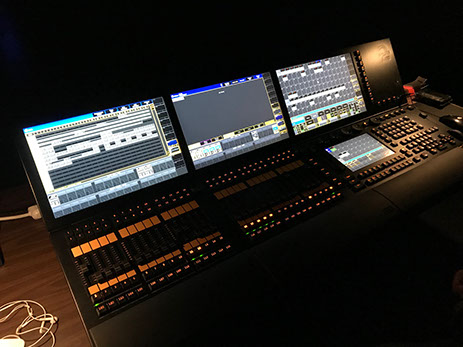 DMX Profile Heads
PR Lighting Solo 1200TM
4 Units
1200W Philips MSR Moving Head
Units are positioned down stage 25ft in house.
​
Color Temperture: 6000K
Colors:
- 1 Wheel with 6 dichroic colors plus clear
- Bi-color effect with variable speeds
- Bidirectional rainbow effect variable speeds
- Stepper or linear color speed
Rotating Gobo Wheel
- 5 interchangeable bi-direction plus open
- Variable speed
Fixed Gogo Wheel
- 7 interchangeble plus open
- Gobo wheel scrolls with variable speeds
- Gobo diameter: 36.3mm
- Gobo Image diameter 31.5mm
Prisms
- 1x2 facet, 1xwhite, 1x3 facet
- All indexable, bidirectional rotating variable
Filters: 1 CTO, 1 Frost
Dimming: 0 - 100% linearly
Shutter/Strobe: Dual blade for blackouts 0.3-6F.P.S.
Beam Angle: 16 - 22.6
DMX-512 18 channels
Code RP-2902
Unit Weight: 101.5 lbs
PR Lighting Solo 575TM
13 Units
10 units are on stage 3rd & 4th Electric
Philips MSR 575W 2/discharge lamp
​
Color Temperature; 7200K
Colors:
1 color wheel with 6 dichroic colors plus clear
Rainbow effect with adjustable speed
Gobos:
5 interchangeable bi-direction plus open
variable speed
Gobo same as 1200
Prisms: Same as 1200
Beam 14-27 linear zoom
DMX-512 16 Channels
Code PR-2586
Weight 90 lbs
Clay Paky Sharpy
16 Units
​
189W discharge lamp (Platinum 5R)
Perfectly parallel, laser-like beam
Color wheel with 14 fixed colors (Interchangeable)
Gobo wheel with 17 fixed gobos (Interchangeable)
8 facet rotating prism
Beam 5R 160W Phillips MSD
5 Units
Looks like Sharpy's
​
Power Consumption 315W
Colors: 1 color wheel with 9 colors + white, bi-directional rainbow effect
Gobos: 12 bi-directional, indexing, rotating gobos + open, gobo shake
Pan/Tilt: P 520 - T 260 (8-bit or 16 bit) Adjustable Speed
Features:
- 15 effect macros
- 3 facet & 8 facet prism
- Full Range Dimmer
- Duel strobe/shutter blades, synchronous & non, random strobe
- DMX-512 (12 or 14 channels)
Omnisistems
Spark 7 Zoom LED
70 Units
Over stage floor on approximately 12ft centers
​
LEDs: 7 x 15W RGBW (4 in 1)
MAX Power 115w
Beam Angle: Zoom 10 x 60 degrees
RGBW Color Mixing
Dimming 0-100%
Fast, Smooth, sad Silent Movement
Auto-Repositioning
RDM Functions
Strobe
16 Bit
Weight 13.2 lbs
3200 Lumen, 6000 lux @ 25 m
DMX channels 15/24/14/16
24 Units
Stage A Cyc Wall
Used as a "Color Wash" end to end 150ft
Omnisistems
Colorblinder 150TM
​
Power consumption: 150W
LEDs: 5 x 30W COB 3 -in - 1 RGB
DMX 512 (1/3/5/7/15 Ch.)
Up-Stage Back Drop
OmniNite
20' x 40' LED Curtain
​
OS-9044 (RGBA LEDs)
DMX 512 (4 Channel)
LED Size 5mm/tile
​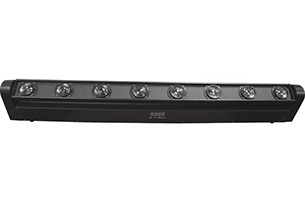 Up-Stage Floor placement
in front of LED Curtain and Legs.
Swinger Light Bar's
10W RGBW
16 Units
TO START COMMUNICATIONS
First check on availability, once your date is known to be available, setup a tour, during your tour appointment we'll walk you through the facility, explain the soundstage event package design and operation, then shortly afterwards provide you a quote and floor plan based on your needs and requests.